Standard Land Value Map
The Standard Land Value Map shows average prices in specific areas for undeveloped real estate, using the official town map with a scale of 1:25.000 as basis. Every year, the prices are determined according to § 196 of the Federal Building Code, "Baugesetzbuch".
The standard land value is valid per square metre ground area; it applies to a standardised plot of land and is derived from the latest prices for undeveloped land. The standard land value can only be applied to real estate, which sufficiently matches the features of the standardised plot.
The standard land value can be adjusted according to differences in location, size, type and development extent.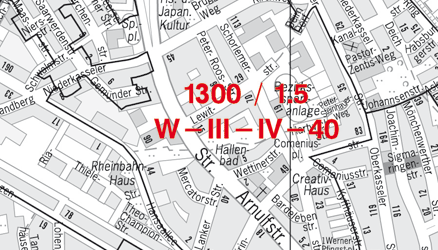 Legend:
1300
=
value in EUR / m² land area
1,5
=
realizable plot ratio
W-III-IV-40
=
residential area with III or IV-floor buildings and 40 m plot depth
The Standard Land Value Map contains approx. 250 values for the city area as well as approx. 40 additional values for the city centre (enlarged map). The map costs 46,00 EUR and can be purchased at the Service Centre of the Survey and Cadastral Office, Brinkmannstrasse 5, 40225 Düsseldorf. General information will be provided by the staff in written form, costs 46,00 EUR per value.
Standard land values can be found online free of charge
( BORISplus.NRW).